2022 INTERNATIONAL WOMEN'S DAY (IWD) SI PETERBOROUGH IS A SPONSOR OF THE KAWARTHA WORLD ISSUES CENTRE (KWIC)  EVENT ADVANCING GENDER EQUALITY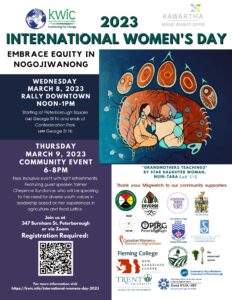 75 YEARS MAKING A DIFFERENCE IN THE LIVES OF WOMEN AND GIRLS
Soroptimist International is celebrating our 100 year Anniversary and SI Peterborough is celebrating our 75th Anniversary. We have a lot to celebrate in 2021! We will be sharing our stories throughout the year on social media and on our website.
On October 1st, 2021, as part of our 75th Anniversary celebrations, we will be holding a cheque presentation event. This event recognizes the community partners that we support. These 5 organizations have been doing amazing work in our community and beyond. They are; Cameron House, The Daughter Project, Crossroads Women's Shelter (YWCA),  Homeward Bound and Elizabeth Fry.  The event will take place at 1:00, location TBA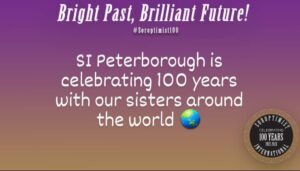 70 YEARS MAKING A DIFFERENCE IN THE LIVES OF WOMEN AND GIRLS
On November 17, 1945, Soroptimist International chartered a club in Peterborough, Ontario. 70 years later, Soroptimist Peterborough is still going strong.
On Saturday, November 7, 2015, November 8 to November 14 was proclaimed as Soroptimist International Week in Peterborough.  Members, guests and community partners celebrated 70 years of service to the community at a gala dinner dance at the Holiday Inn Waterfront, in Peterborough.
Keith Riel, on behalf of Mayor Bennett, read the proclamation recognizing the club for its many contributions to improve the lives of women and girls, through programs leading to social and economic development in our community and around the world.
Local television personality Teresa Kaszuba MC'd the evening program recognizing the efforts of dedicated volunteers as contributing to the longevity and success of the club.  She shared greetings from MPP Jeff Leal.
Long associations with women's health initiatives, the YWCA crossroads program and Cameron House Shelter for women were highlighted as some of the successful community partnerships the club has fostered over the years. Live Your Dream Education & Training Awards for women were also featured.
A photo montage, "Believe in the Power of Soroptimist" was presented to assembled guests.
A highlight of the evening was a speech by RoseMary Reid, president-elect of Soroptimist International of the Americas. RoseMary outlined her journey from local club president, to Eastern Canada Region Governor, SIA board member and finally, President Elect of the Federation.
Photos by Andrej Baca; Richmond Hill Photography