SOROPTIMIST OF THE YEAR 2021
Congratulations to Catalina Malin, the 2021 Soroptimist of the Year (SOY) for SI Peterborough. This exciting news was announced at our May 5th business meeting.
Catalina has been a member of SI Peterborough since 2002. She has held various positions with the club on a number of committees and the Board including President from 2011-2013.  She is currently a member of the Public Awareness Committee. Catalina has attended many local, regional and international events over the past 19 years and co-chaired the Eastern Canada Fall Region meeting in 2018.
In the fall of 2020, Catalina initiated and led a fundraising virtual event called TASTE OF THE WORLD. She spent countless hours (along with her team members) developing and implementing this innovative idea. This was a unique social media campaign – a "Virtual Travel Experience" that brought together food, family and friends during a time when COVID-19 was impacting all of our lives. The donors heard from families around the world, saw photos and videos of their communities and culture AND learned how to make their favourite family recipe! The campaign goal was to bring people together. The beauty of this campaign was that families from New Zealand, Australia, Ireland, France, Zurich, Colombia, Panama, USA, England, and obviously Canada took the time to help build this campaign for the women and girls in the Peterborough area. This was not only about generating funds to support our programs but also to raise awareness about our organization and our Peterborough club. This fundraising event got the attention of our local media and was mentioned at the 2021 Eastern Canada Region Conference Spring Conference as a "best practice".
As noted by the Chair of the SOY nominating committee, Marney Horton, "Catalina always has a positive attitude and a smile that lights up the room".
Congratulations Catalina, very well deserved.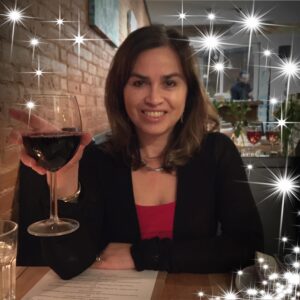 June 5th 2019 – New Board members announced.
For 2019-20 the SI Peterborough board members are;
President – Joan Ivanov
President – elect – Dorothy MacDonald
Treasurer – Irene James
Secretary – Susan Harper
Directors – Karen Doherty, Terri Geerinck, Pat Simpson and Linda McIlroy
Congratulations!
Golf Tournament 2018 at Quarry Golf Club – September 8th
For additional photos see Snap'd Peterborough https://peterborough.snapd.com/events/view/1168028
July 30th 2018
SIA Conference 2018 in Japan. Our Governor of the Eastern Canada Region Tanna Edwards with Melanie Littlewood Kennedy, Governor of the Western Canada Region.
July 2018
PETERBOROUGH SOROPTIMIST MEMBER SELECTED AS GOVERNOR
Peterborough ON – (July 2018)
Tanna Edwards has been selected as the Soroptimist International of the Americas (SIA) Governor for Eastern Canada Region for a two-year term effective July 1. Tanna has been a member of multiple clubs within Soroptimist International (SI) since 1994 and is a past-President of SI Peterborough.
The Governor's role is to lead the Eastern Canada Region and support the local clubs and members as they work collectively to impact the lives of women and girls through the Dream Programs (the Live Your Dream Award and the Dream It, Be It program for teen girls).  These awards include financial support for students who are attending Fleming College and Trent University. In Canada, scholarships for graduate students are also available through the Soroptimist Foundation of Canada. "There is no better outcome than to know that we have lifted another up, enabling them to follow their dreams", states Tanna.
The focus of the SIA Federation is on education since educated women and girls are:
Less vulnerable to sex traffickers
More likely to leave a domestic violence situation and not return
Able to access healthcare
Less likely to live in poverty
Able to raise stronger, healthier families.
Tanna will travel to Japan in early August to participate in the Soroptimist International of the Americas Convention in Yokohama and the Governor's Round Table, with leaders from across the Federations' twenty-one countries. While there, the leaders will continue to develop strategy and goals to support and empower women across the world as Soroptimist prepares to enter its 2nd century in 2021.
Congratulations Tanna! We are so proud of you.
https://kawarthanow.com/2018/07/16/businessnow-july-16-2018/#peterboroughs-tanna-edwards-selected-as-soroptimist-international-of-the-americas-governor-for-eastern-canada-region
2018 FASHION SHOW A BIG SUCCESS
Over $5000. was raised in support of the SI Peterborough programs. Hats off to Karen Doherty (chair) and the committee for their hard work in making this a memorable event. 
Soroptimist International Peterborough (SI Peterborough) held their annual Fashion Show at the Royal Gardens Retirement Residence on April 22nd.  Fashions were provided by Style Boutique, Sheila's and Classic Lane, My Left Breast, Addition Elle and Mark's.  Event highlights included Teresa Kaszuba (CHEX TV Morning Show) as the emcee and a surprise visit by Roger, the Peterborough Petes mascot.
Over 200 people attended the event. Proceeds raised by ticket sales and the basket raffle totalled over $5000.
Snap'd Peterborough was there to capture the event. Thanks Snap'd! Photos can be viewed here
https://peterborough.snapd.com/events/view/1134270
The funds raised at this event will be used to support our programs including Dream It Be IT (DIBI) and our Live Your Dream Awards. These programs support young women in our local community by helping them to achieve their goals said Julie Coleman, President Soroptimist Peterborough.
Thanks to the many donors of door prizes and raffle items and to the volunteer models and store managers. A complete list of donors can be found at the SI Peterborough website (https://soroptimistpeterborough.ca/).
___________________________________________________________________________
SOROPTIMIST OF THE YEAR 2018 ANNOUNCED
On April 4th 2018, Irene James (centre) was selected as SI Peterbourough's Soroptimist of the Year. The award was presented by President Julie Coleman and Christine Mulvihill. Congratulations to Irene!
70 YEARS MAKING A DIFFERENCE IN THE LIVES OF WOMEN AND GIRLS
On November 17, 1945, Soroptimist International chartered a club in Peterborough, Ontario. 70 years later, Soroptimist Peterborough is still going strong.
On Saturday, November 7, 2015, November 8 to November 14 was proclaimed as Soroptimist International Week in Peterborough.  Members, guests and community partners celebrated 70 years of service to the community at a gala dinner dance at the Holiday Inn Waterfront, in Peterborough.
Keith Riel, on behalf of Mayor Bennett, read the proclamation recognizing the club for its many contributions to improve the lives of women and girls, through programs leading to social and economic development in our community and around the world.
Local television personality Teresa Kaszuba MC'd the evening program recognizing the efforts of dedicated volunteers as contributing to the longevity and success of the club.  She shared greetings from MPP Jeff Leal.
Long associations with women's health initiatives, the YWCA crossroads program and Cameron House Shelter for women were highlighted as some of the successful community partnerships the club has fostered over the years. Live Your Dream Education & Training Awards for women were also featured.
A photo montage, "Believe in the Power of Soroptimist" was presented to assembled guests.
A highlight of the evening was a speech by RoseMary Reid, president-elect of Soroptimist International of the Americas. RoseMary outlined her journey from local club president, to Eastern Canada Region Governor, SIA board member and finally, President Elect of the Federation.
Photos by Andrej Baca; Richmond Hill Photography