FASHION FUNDRAISER
Style Boutique has partnered with us to donate 20% of all sales (regular priced merchandise) from Sunday September 12th to Saturday September 18th. You can shop in store or online at https://styleboutique.ca/  Your name will also be entered into a draw when you shop using the code word 'Soroptimist'. HAPPY SHOPPING and thanks to Style Boutique for their ongoing support. Style Boutique is located at 827 Ward Street in Bridgenorth ON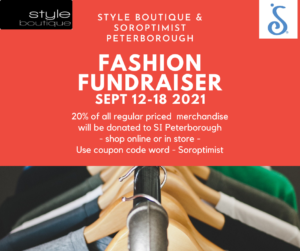 Soroptimist Peterborough members work at a number of fundraising events to support our work in the community with women and girls.
Even in the age of COVID-19, we are hard at work "virtually" with an online fundraiser called Taste of the World where participants can make an online donation using the Canada Helps secure platform. In the process of doing so, they can choose a virtual travel experience, meet a family from that area and get a recipe to try at home from their travel location. Great fun!
Gift cards are available for purchase (you pay for and retain the full value of the card), while Soroptimist Peterborough is furnished a percentage of the value by the card supplier. Consider carrying these for everyday purchases or using for gifts. There is a wide variety of vendors available including grocery, gas, department stores, online retailers and restaurants. Please use our Contact page if you'd like more information and an order form to participate. Orders are typically placed the first weekend of the month and arrive the second weekend of the month.
Soroptimist also works locally with OLG/Delta Bingo to raise funds for the important charitable work that we do – providing education and support to women and girls so they can provide a better future for their families and our community. Members are asked to sign up for periodic "shifts", and we are sent funds on a monthly basis based on our participation.