I'd like to take this opportunity to welcome all of our invited guests, award winners and their supporters to our meeting this evening. It is indeed a privilege to lead this organization in this community at this time. I am proud of the work that we do on behalf of women and girls, and the critical thinking that goes into getting our message out into the world so we don't remain the worlds' "best kept secret". We are passionate about our fundraising efforts required to support our programs within Peterborough and the Kawarthas, as well as the partnerships we have developed and continue to seek out globally. Recently, our Soroptimist Striders team raised $1765 in the "Coldest Night" walk for Cameron House & Brock Mission; we are preparing for our Annual Golf Tournament on June 1st at Baxter Creek, and our 2nd Annual Dreams' Dinner later this spring as well as hopefully entering a team in the Freedom Walk for YWCA in May. This past Saturday, a group of Soroptimists gathered at Cameron House and served a delicious St. Patrick's Day lunch, providing gift bags and goodies to the residents. We have another team actively pursuing a grant opportunity to assist with supporting the women at Cameron House.
I have been a Soroptimist for 20 years in 2014. As I look back on my time with Soroptimist I have had many opportunities to leave, with multiple personal moves, but each time I was drawn back to the organization, and in each case sought it out. Certainly the ready social net and the friendship was a draw, but there was something else. I have been thinking about this a lot lately, and I know it is our mission – stated more clearly today than ever – to improve the lives of women and girls through programs that provide social and economic empowerment, along with the collective impact that Soroptimists have in the world. A key word for me is "empowerment" in our mission statement, for it is not just a handout or a gift that we provide to women and girls, but the tools to help them live their dreams. Not only does Soroptimist suggest that we inspire others to live their dreams, but it challenges us to live ours as well.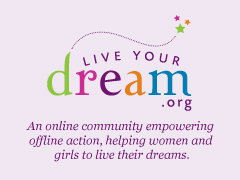 What is your dream?
I would like to share a quote from Soroptimist International President Anne Garvie on the occasion of International Women's Day, March 8th.
"United Nations Women's theme for International Women's Day is "Equality for women is progress for all". Soroptimists must and will "Inspire Change" for women and seek greater gender equality through education, learning opportunities, access to economic empowerment and the elimination of violence against women and girls. We must continue to strive tirelessly for equality and human rights for all; this has to be Soroptimist International's focus, in particular for the Post-2015 Development Agenda after the Millennium Development Goals.
As International President I ask all Soroptimists to embrace, salute and celebrate this significant global day, embracing women and girls, educating and inspiring action within your communities, to transform the lives of women and girls whilst destroying the scourge of violence."
Sometimes destroying that scourge of violence makes us uncomfortable. It challenges who we think we are as individuals relative to others, or what type of community, country or world we think we live in. There are times we open ourselves to women or girls in situations that perhaps we thought we'd never have anything to do with, and in so doing, we learn that we have misconceptions. As we become more aware, we come to understand the reasons women and girls find themselves in situations such as human trafficking or domestic abuse is often not obvious, and certainly not as simple as we may think.
The work we do as Soroptimists helps to shed light on the darkness, and is vitally important. Even though at times we may feel that our voices are not being heard, as we battle membership challenges and the like, keep the faith as they say. Just as the women and girls we meet inspire us….I am sure we inspire them. We must not forget that, and we most certainly cannot forget to dream. What is your dream?