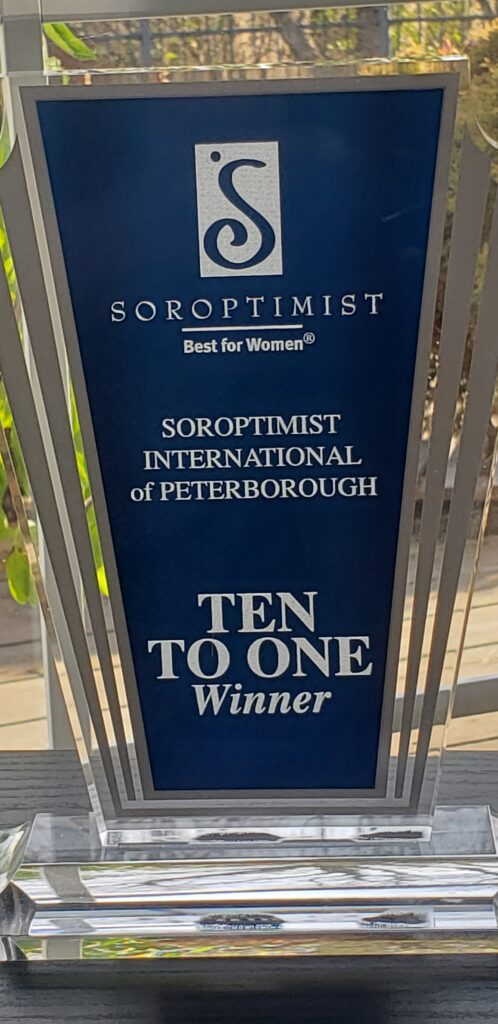 Covid19 made our fundraising efforts a real challenge but members stepped up and were still able to raise funds to support our signature programs – DIBI and Live Your Dream Awards.
Usually Ten to One starts in September and runs until the last meeting in June but our fundraising efforts were very different this year.
Team Violet Richardson (Joyce Fee, Dianne Hutchison, Dee Underhill and Sheryl Hopkins) raised $941.84. This effort earned the team the coveted Ten to One Trophy for 2020! These funds were raised by the sale of Gift Cards. Members and others, purchase the cards and SI Peterborough received a percentage of the value sold. There is a very long list of cards including grocery and clothing stores, restaurants etc.
Individual efforts have been ongoing and include the following:
Sheryl Hopkins- donated proceeds from her hat making
Dianne Nielsen – did club fundraising by making and selling jam
Dorothy MacDonald- has been knitting hats and giving the proceeds to our club
Eileen Stanbury – has been making and selling masks
Julaine Palmer- has been making and selling homemade muffins
Other members donated funds directly to the club.
The partnership with Delta Bingo – Ontario Lottery and Gaming – has also contributed significant funds to our club this year. Thank you to OLG.
We encourage members to continue buying gift cards, especially as Christmas gifts. Example: with a 4% return on a gift card – if each member buys a $200 card each month (35 members x $200. each) this would generate $280 per month and $3360. yearly for our club. Imagine if every member bought all of their gift cards through this program (for themselves and others).