FRIENDSHIP LINKS  –  celebrating our 75 year anniversary with memories 
Led by member Joyce Fee, SI Peterborough has renewed our Friendship Link with Soroptimist International Lisburn, Ireland.  We have been friends since the early 1990's but have not been in touch for a number of years.  Irene Orr is our contact person and we met at several Conventions in Helsinki, Sydney and Glasgow. At our May 5th business meeting, Irene, President Barbara Carlisle and President-Elect Karen Elliott visited us virtually to renew our Friendship Link.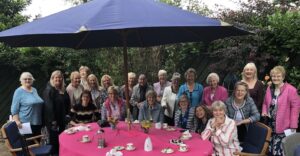 Soroptimist International suggests that there are a host of benefits that come with developing Friendship Links.
Appreciating different cultures
Supporting new developing clubs
Establishing warm friendships
In 1950 members from our club helped with the chartering of Peterborough, England.  The chain of office of the second vice president contains a five dollar Canadian coin.  Since then we have maintained a Friendship Link with this club.  In the beginning it was letter writing and travelling to England by steam ship to visit.  Past president, Joan Moyer and I visited in Peterborough following the SI Convention in Nottingham and in 2000 Eileen Stanbury, her daughter Jenna and I visited for the week end celebration of their 50th Anniversary. We also visited with S I Beckingham and SI Blackburn on that trip.
Joyce shares this memory. "When I joined our club in 1977 there were several Friendship link clubs.  Each Christmas we looked forward to the box of dried sugared fruit from our Link in California. I have good memories of the club from Elko, Nevada – we linked up at an SIA Convention.  The club in Banjul was special.  Maureen Pammett (past member) had spent some time in Gambia working with teachers. When she returned she described the lack of supplies in the classrooms – one box of crayons for a class of fifty children.  For a few years we sent money to SI Banjul to purchase school supplies.  We have had special links with clubs in Japan.  At the SI Convention in Helsinki they honoured our four members with a tea ceremony.  When I was on the SIA Federation Board we travelled to Osaka for our meeting and the installation of our first president from Japan.  Our Japanese Friendship Link club came to our hotel to give me gifts for our Peterborough members."
In 2013 on behalf of our club, Joyce mailed our newsletter and greetings to the following Friendship Links:
SI Peterborough, England
Mary Dalhman and SI Beckinham,  England
SI Blackburn, England,
SI Lisburn, Ireland,
Jenny McKeen and her club in Australia,
Marija Souvent Ferencak, and her club SI Maribora, Slovenia
Emiko Tokaji, SI Kochi City, Japan,
In recent years our contacts with clubs in other countries have continued but have been fewer. On May 5th, 2021, we renewed our Friendship Link with SI Lisburn.  Their members hope we will come to Dublin for the SI Convention in July 2023.