SI Peterborough presented the Making a Difference Awards to recipients at 7 local high schools. The award recipients are selected by the high school staff and awarded by our club members.
Pictured below is board member Cec Ayotte with the award recipient from Kenner high school.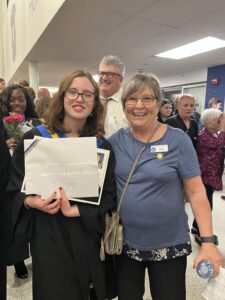 The recipients of these awards identifies as female and meets the following criteria:
A graduating student with post secondary educational goals (university, college or training program). An
energetic leader whose character demonstrates integrity, passion, compassion and care within the
school and the community. The student demonstrates the characteristics through their actions and
commitment to social responsibility to improve the lives of those who identify as female in areas such as education, the
environment, social justice or other socially relevant areas.